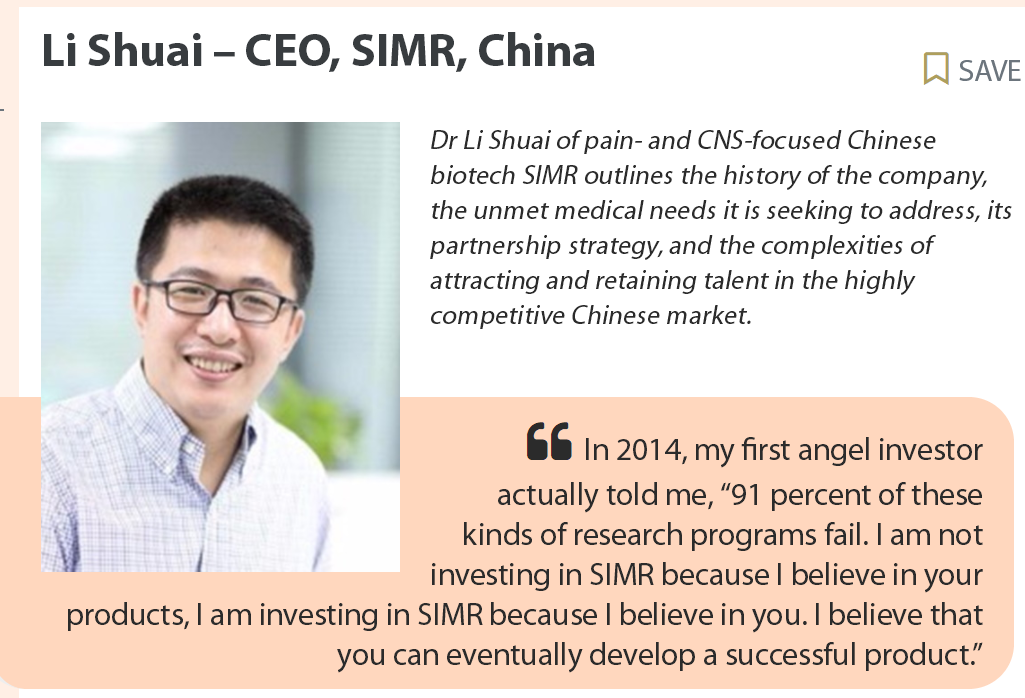 Dr Li, could you share the story of how you decided to establish SIMR in 2014?
I studied and worked in the Chinese Academy of Sciences (CAS) for 12 years, and during that time, my main work was to screen novel drug targets using microarray analysis techniques and to investigate the underlying mechanism of chronic pain under Professor Zhang Xu. In 2014, I decided to quit my job at CAS to establish SIMR because I wanted to translate 12 years of basic research I had worked on into clinical products that could benefit patients.
I had several motivations. Firstly, it was clear that chronic pain was a significant unmet clinical need and a very important area of research. Chronic pain can be divided into two categories: inflammatory and neuropathic pain. There are effective options for the treatment and alleviation of inflammatory pain but at the moment, the efficacy of available drugs for neuropathic pain are limited. For instance, neuropathic pain affects around 8 percent of the general population. 50 percent of diabetic patients are affected by diabetic peripheral neuropathy while nearly 60 percent of cancer patients are affected by chemotherapy-induced peripheral neuropathy. Secondly, the translational capability at CAS or other research institutes was lagging far behind the pharmaceutical industry in China. I hold myself responsible for bringing new therapies to patients, so the only way was to step foot into the industry.
In addition, pain – and the treatment of pain – can be a controversial topic. Recent events, most notably the opioid crisis in North America, have highlighted the significant unmedical needs in this area.
As we know, these days, oncology is such a hot topic because there are clear bio-markers for many types of cancers and cancer targets, which make it easier for drug discovery and development. However, in CNS and particularly in neuropathic pain, our research and clinical methods are the same as two decades ago! That is lamentable. As an industry, we need to change this – and biotechs should lead the charge here instead of simply following the MNCs.
Secondly, over the past 17 years I had been working in this area, I believe that I have some special insights into this subject area, and particularly in neuropathic pain. However, the academic arena is not very conducive for therapeutic drug discovery and research, much less commercialization. In the past 20 years, the basic research ecosystem in China has developed very quickly and now, China ranks second in terms of the number of publications globally, after the US. However, in the areas of translational and industrial research, we are still lagging behind. Therefore, I decided to move into the private sector and establish my own biotech company.
SIMR focuses on pain and CNS diseases, generally quite difficult conditions to treat. How challenging was it to attract investors?
This was a challenging aspect. Investors in China are typically more familiar with oncology as well as companies working on developing their own platform technology. Pain and CNS are generally overlooked areas and in China, only a few companies focus on CNS at all so this is not an area that VCs understand. As a result, during our initial fundraising rounds, we only met with three VCs. Fortunately, they agreed with us on one fundamental principle: everything our company do should be based on one important thing – science. If the science makes sense, if the logic of what we are doing makes sense, then they believe in it. Our investors trust us because they can see that we put science first.
In 2014, my first angel investor actually told me, "91 percent of these kinds of research programs fail. I am not investing in SIMR because I believe in your products, I am investing in SIMR because I believe in you. I believe that you can eventually develop a successful product."
With this alignment, it was not difficult to find the right kind of investors. We are not short on funds. In fact, during a previous round of investment, our investors wanted to invest much more than what we asked for. I believe that having too much money can also be a challenge if the company is still very early-stage as it could distract us from our focus. Raising only the appropriate amount of funds is also a way to ensure that we allocate and use them efficiently. At the end of the day, we want to focus on the science.
Could you introduce your flagship compound(s)?
The first is our SR419 drug, a first-in-class drug candidate for peripheral neuropathic pain, which was discovered and developed completely in-house. This is a novel non-opioid receptor drug, and our pre-clinical data showed promising efficacy with no CNS side effects, so we are incredibly excited about this. We just recently dosed our first subject in the clinical study. This is a very important milestone for the company as it marks our transition into a clinical-stage biotech company.
Outside of neuropathic pain, we also have a unique pipeline in major depression and neurodegenerative diseases. Several key members of our team have actually spent years working in this area.
Could you outline your overall clinical development strategy?
We are a truly innovative company with the majority of our assets having first-in-class and global potential. This is our competitive advantage so it makes sense for us to have a global drug development strategy from the very beginning.
We are already conducting our Phase I clinical trials for SR419 in Australia, which will generate data more suitable for filing with Western regulatory agencies like the US FDA and the EMA. Once we enter Phase II clinical trials, we plan to conduct multi-country, multi-centre studies in both the US and China, and potentially Europe, depending on patient availability, market size and cost.
For future assets, we may explore simultaneous first-in-human studies in both the US and China. This would be more costly but will speed up clinical development.
What is rather interesting is that there is also a cultural component to the way pain is perceived and addressed. I believe that in Chinese as well as some other Asian cultures, pain is viewed more as a symptom, something to be tolerated. This is less so the case in Western countries. For this reason, we see major market opportunities in the US and Europe, not just within the domestic Chinese market.
As a small biotech, what kind of partners would you be looking for at the moment to speed up your growth and development?
Currently, we are very open to opportunities for co-development of our compounds. We are still a small biotech with only around 50 employees, most of which are discovery scientists. While we have entered the clinic, our clinical research team is still in the process of being built up. We are actively recruiting more clinical talents but there is a huge demand for clinical researchers in China at the moment. I believe we will need more support on the clinical research side.
In addition, to execute our global clinical development strategy, it would make sense for us to partner with bigger international players. We have recently begun to reach out to potential partners. Running Phase I clinical trials in Australia is relatively simple for us since the ecosystem in Australia is well-positioned to support such trials and almost no time zone difference. However, once we enter Phase II, we expect to run multi-country, multi-centre trials, which would be more challenging.
Many biotechs in China are looking at more commercial opportunities focusing on in-licensing. Our strategy is different. We are looking to co-develop our compounds. I believe we have something unique and valuable to offer in terms of our domain knowledge and scientific expertise in our focal areas. This is an advantage we can offer to our partners on the science side. In turn, we can benefit from their clinical development expertise on a global scale. This would be a win-win partnership.
However, this does not rule out future in-licensing opportunities should we find companies with attractive pipelines and complementary assets to ours.
How does SIMR compete with both Big Pharma and also more mainstream biotechs for talent?
We have been very fortunate to attract a highly talented team. I think the fundamental reason is that we are a science-focused company. Everything is about the science that we do. Science is the basis of all our activities and priorities. As the CEO, I do not see myself as the boss. All ideas and projects have to be proven on the basis of their science, not just because the boss said to do it.
With this atmosphere, I believe our employees truly enjoy and value the research they are doing. Perhaps they all share the belief that we are working on something truly meaningful that could change the industry and the world. As a result, our team is very supportive of and loyal to the company. Even our investors have commented on their loyalty to SIMR and our course. Our turnover rate is extremely low. To further foster this sense of ownership, our core management team and key scientists also has equity in the company.
This has also been how we have attracted top talents from top companies like GSK, including Kai Wu, our VP of clinical and business development; All these are top experts in their fields and they chose to join SIMR. This is a testament to their faith in our projects and our company. We are continuing to grow our company as well.
Looking forward, what are your main priorities for SIMR?
We expect to take another six or seven compounds into the clinic in the next three years. We also want to develop biomarkers for CNS diseases and neuropathic pain. This will revolutionize the field and help the industry benefit from our work. Finally, we hope to build SIMR into an amazing place to work, so we can recruit more talents. We hope to give them more opportunities to work on valuable and interesting research.
Article Source:PharmaBoardroom